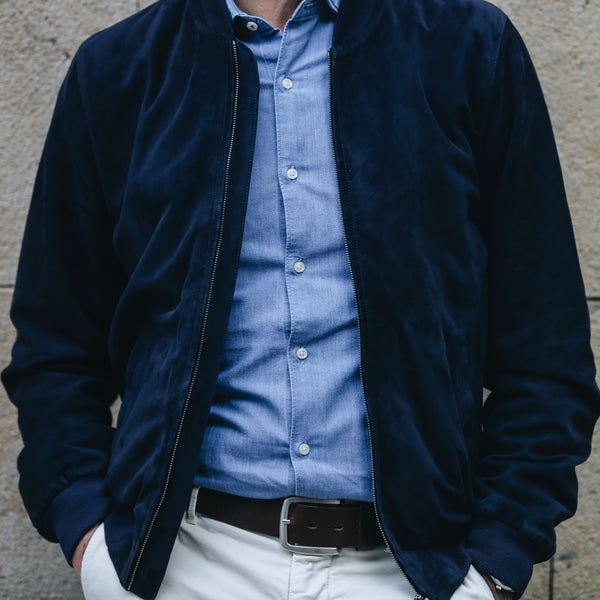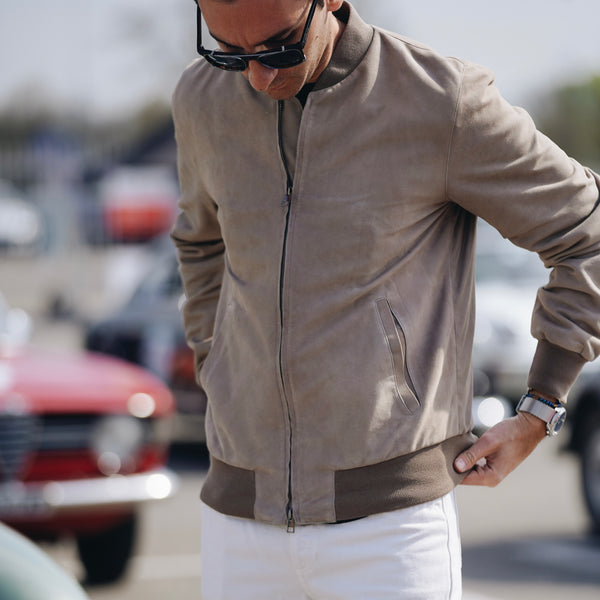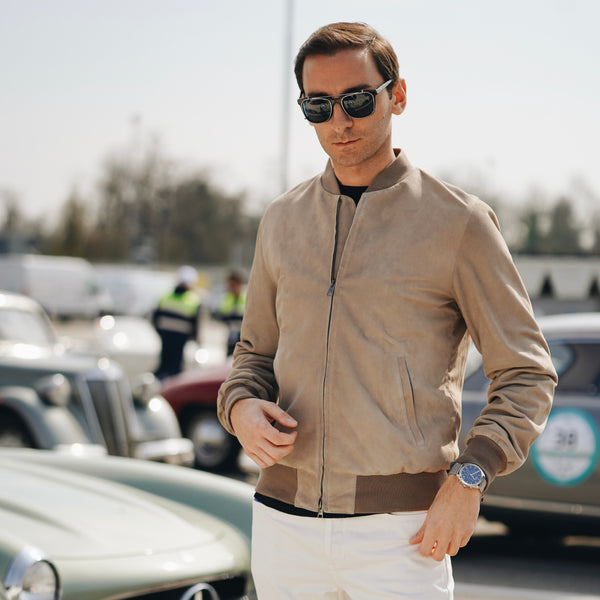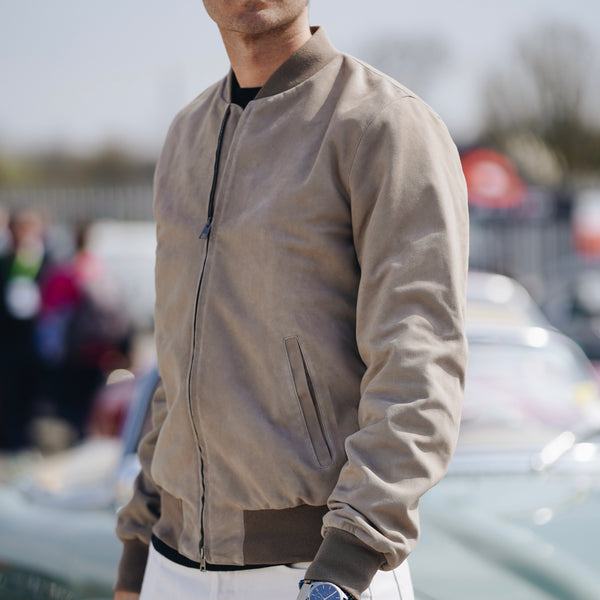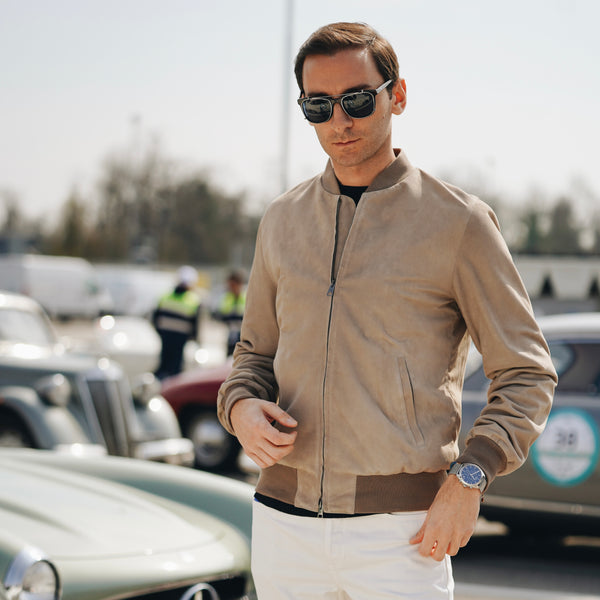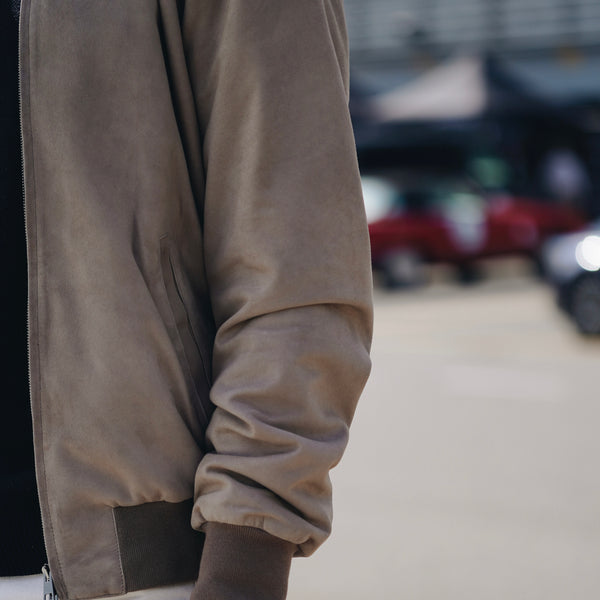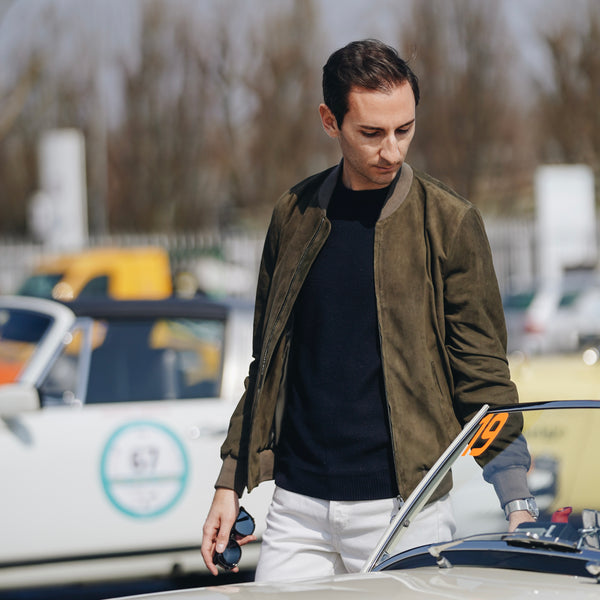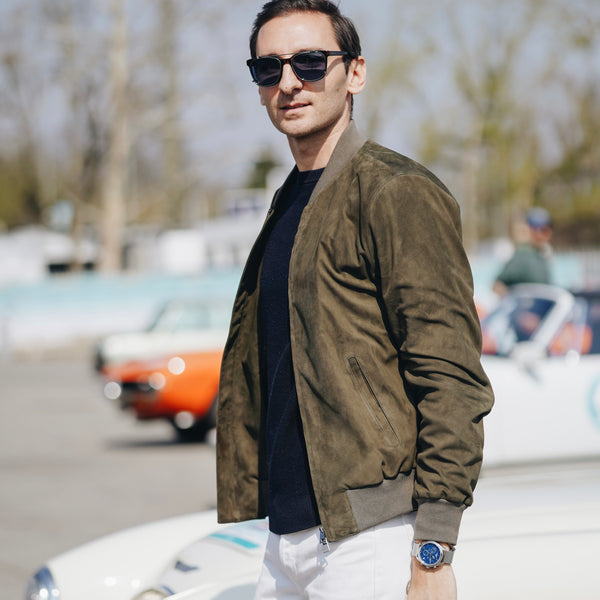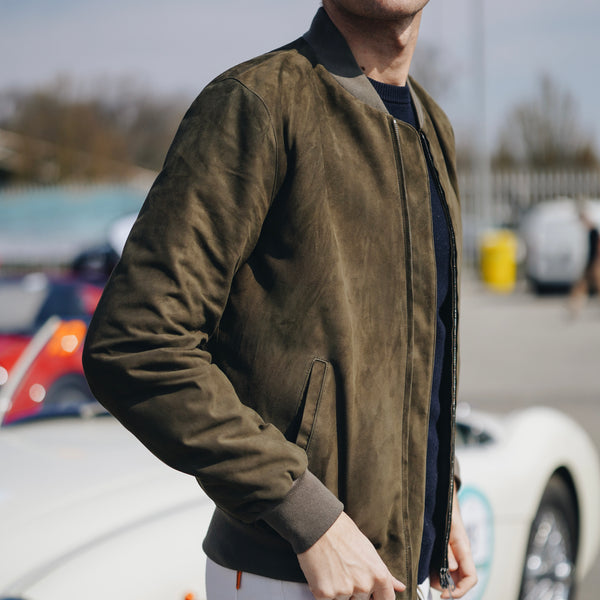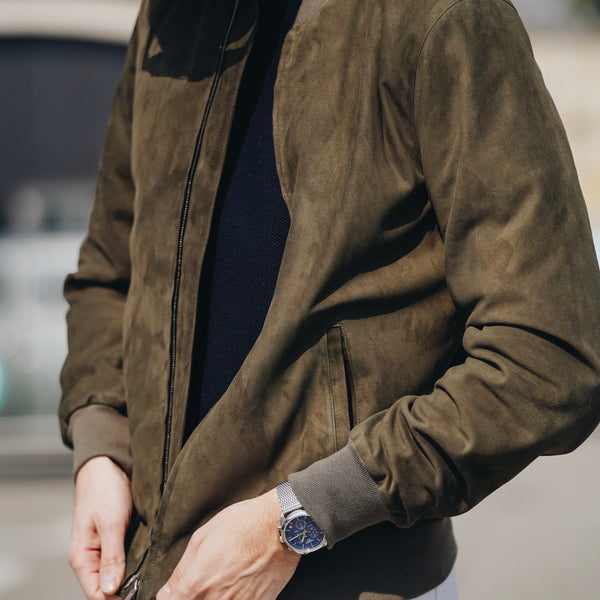 Lambskin Suede Bomber jacket
Lightweight jacket inspired by legendary flight models, it remains an essential jacket in any wardrobe for its simplicity of lines that makes it timeless. Reinterpreted over the years in a thousand different versions and materials, it has become an emblem for actors and musicians as well as a must-have uniform for entire generations of young people
Our Bomber takes up the classic and essential style, not only externally but also inside where we have hidden the pockets in the lining. Its slim fit combined with our 0.4 mm suede guarantee lightness and versatility for a minimal and elegant garment.
Composition: 100% Leather
Lining: 100% Cotton viscose.
Jacket sizes
| | | | | |
| --- | --- | --- | --- | --- |
| Size | Chest (cm) | Waist (cm) | Basin (cm) | Arms (cm) |
| 46 | 90-94 | 76-80 | 92-96 | 83.5 |
| 48 | 94-98 | 80-84 | 96-100 | 85 |
| 50 | 98-102 | 88-92 | 100-104 | 86.5 |
| 52 | 102-106 | 92-96 | 104-108 | 88 |
| 54 | 106-110 | 96-100 | 108-112 | 89.5 |
| | | | | |
| | | | | |
| | | | | |
| | | | | |
| | | | | |
Made to measure
If you have special requests or your size is not available in our store, we kindly ask you to contact us at sales@foulon.it . Our totally handcrafted production is able to satisfy any need and, with a small supplement, create an even more exclusive garment specifically for you.
Care and maintenance
Leather is a resistant and long-lasting material, but at the same time delicate, which needs special attention. If respected, it will accompany you for a long time, acquiring that patina that will make your garment even more exclusive.

Furthermore, each hide has specific peculiarities: so we invite you not to clean it at home, but to make use of specialized services.

Avoid contact with liquids, leather is a material that is not waterproof. If necessary, remove the water on the surface with a clean towel without dabbing and let the garment dry in a dry space away from direct heat sources.

The tanned leather is affected by the incidence of direct light, modifying the colour, so please be careful not to expose your garment to direct light for a long time.

Suede Leathers:

Our leathers are equipped with an anti-drop treatment which, although it does not make the leather waterproof, does protect it from the action of water. This treatment decays over time but can be renewed with specific products for professional use.

For periodic cleaning, use only a specific brush for suede garments. Work the garment gently to remove the dust and restore the suede qualities.
Clinic service
Accidents happen: an impossible stain, a zip that comes undone, a tear in the lining. Our Foulon Clinic Service assists you and offers you personalized support for the care, cleaning and maintenance of your clothes as well as, if necessary, taking care of them to repair and give a new life to your Foulon.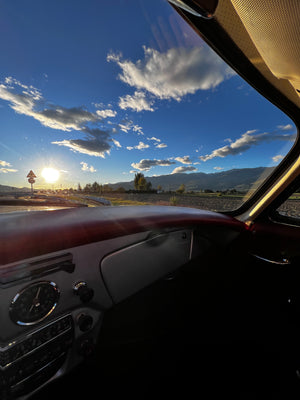 Sustainability
We value leather as a sustainable material. Almost
all of our leathers come from waste from the food industry that our suppliers, all certified, ennoble and transform into a precious and valuable material,
resistant and durable, fueling a virtuous circle of "upcycling" that gives work to a historic supply chain of all-Italian craftsmanship.
We avoid the use of plastic where possible: our buttons are always in natural horn (also industrial waste).
food), labels and tags are made with recycled materials and our packaging is made of recycled and recyclable cardboard.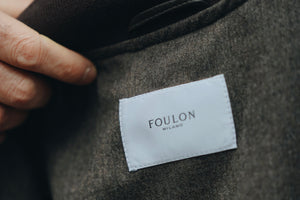 Foulon quality
We value Italian craftsmanship.
Our garments, gloves and accessories are made entirely by hand by expert specialists from our country. Consequently they are unique both for the characteristics of the materials and for the accurate manual manufacturing.
Each piece is meticulously checked once produced and inspected before each shipment.